The Houghton – Hancock High School Drama club will be coming to The Calumet Theatre for their Spring show. They will be performing Night Chills by Billy St. John. This show will be General Admission.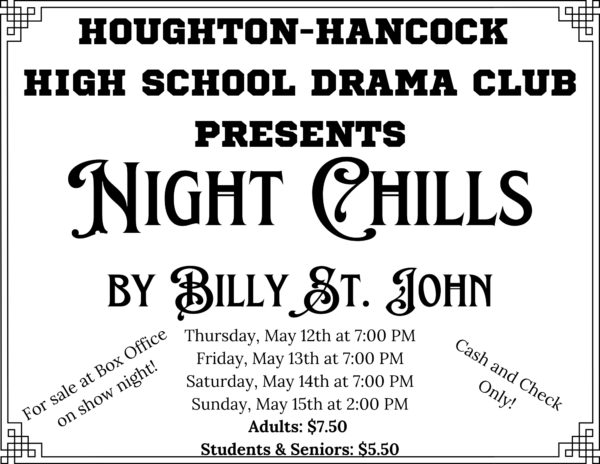 Show Dates
Thursday, May 12th at 7:00 PM
Friday, May 13th at 7:00 PM
Saturday, May 14th at 7:00 PM
Sunday, May 15th at 2:00 PM
Ticket Prices
Adults: $7.50
Students/Seniors: $5.50
Show Synopsis
"Night Chills" features four adaptations of some of Edgar Allan Poe's most well-known stories, "The Tell-Tale Heart", "The Fall of the House of Usher", "The Casks of Amontillado", and "The Murders in the Rue Morgue". Each story is introduced by Poe himself. You'll leave the light on when you go to bed after seeing this dark and moody compilation of tales of terror.