Individual Membership

On March 20, 1900, the historic Calumet Theatre opened its doors for the first time. It was indeed a gala occasion, and the first of thousands of performances that have delighted generations of Keweenaw residents and visitors. Your support as a patron of the Theatre is greatly appreciated, and means a great deal to our continuing success. However, becoming a member is without a doubt the most important way that you can help us to continue in that it insures the Calumet Theatre's future as the heart of our community.
Membership bestows many benefits. In addition to receiving ticket discounts, a free tour, free ticket mailing, and the quarterly newsletter, early member entrance with pre-purchased tickets,  there is a sense of ownership and pride in being part of a century-long tradition. Members have long been a part of the success of the Calumet Theatre. As a member supported volunteer-based organization with over 400 members, the Theatre serves over 18,000 people annually through its programs and indirectly benefits many more by improving the quality of life in the community and by attracting visitors. Membership is your commitment to preserving the Theatre as a Keweenaw treasure and to provide quality entertainment to the region.
Click on the Membership button below for the Membership Form: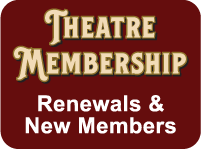 Please fill out the form above and mail it to The Calumet Theatre to the address listed below – along with your membership donation.
Calumet Theatre
P.O. Box 167
Calumet, MI 49913
For questions, please contact the Box Office at (906) 337-2610.